Every week in January, DreamWorks Animation will be debuting new content to stream on Netflix or Peacock! They are kicking off the year with the premiere of two new series, including the all-new live action-animated hybrid preschool series, Gabby's Dollhouse and the second based on PD Eastman's best-selling children's book, Go, Dog. Go!. Additionally, DreamWorks Animation will be releasing new seasons of fan favorites Jurassic World: Camp Cretaceous and Cleopatra in Space.
Gabby's Dollhouse Season 1
January 5th 2021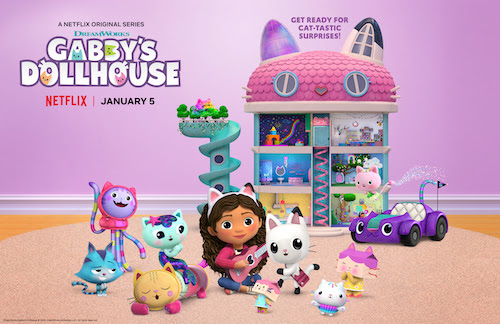 From celebrated preschool creators and executive producers, Traci Paige Johnson (Blue's Clues, Daniel Tiger's Neighborhood) and Jennifer Twomey (Blue's Clues, Team Umizoomi), DreamWorks Gabby's Dollhouse is a mixed-media preschool series with a surprise inside! Follow Gabby as she unboxes a surprise before jumping into a fantastical animated world full of adorable cat characters that live inside her magical dollhouse. Join the adventure when Gabby's Dollhouse premieres on Netflix January 5.
We have watched the entire season twice already. It is cat-tastic! Kennedy is obsessed with cats so literally you can hear her squealing during the entire episode. I love that it includes cats, games, mysteries, projects, surprises, songs, and fun! This show is absolutely adorable and the girl that plays Gabby (Laila Lockhart Kraner) makes the entire show. She is energetic, excited, happy and makes you want to use your imagination and go on adventures with her! Kennedy is 6 and Carter is 9 and they both loved the entire season. We are already looking forward to season 2 and I read there will be 27 new episodes!
Thank you Netflix and Dreamworks for this amazing package. The kids loved designing their own Gabby's Dollhouse pajamas!
Get Crafty With Gabby!
Cleopatra in Space Season 3
January 14th 2021
Cleo's life is turned upside down when the entire school finds out she's the savior, and things get complicated when Brian and Akila start dating. Will the group stay focused enough to find the Uta and take on Octavian? Executive Produced by Doug Langdale (The Adventures of Puss in Boots), Cleopatra in Space season 3 releases January 14 exclusively on Peacock.
Jurassic World: Camp Cretaceous Season 2
January 22, 2021
Inspired by the Jurassic World franchise, Jurassic World: Camp Cretaceous follows six teenagers chosen for a once-in-a-lifetime experience at Camp Cretaceous, a new adventure camp on the opposite side of Isla Nublar, must work together to survive when dinosaurs wreak havoc across the island.
Now stranded on an abandoned Isla Nublar, the campers struggle to survive among the wreckage of Jurassic World. As the T.Rex takes over Main Street, forcing the kids deeper into the jungle, the discovery that they may not be alone not only threatens their rescue but may uncover something more sinister. Executive Produced by Steven Spielberg, Colin Trevorrow, Frank Marshall, Scott Kreamer and Aaron Hammersley, Jurassic World: Camp Cretaceous season 2 debuts January 22 on Netflix.
We watched the entire first season and I shared a couple IG posts about this show. We loved it. We can't wait for season 2.
Go, Dog. Go! Season 1
January 26, 2021
Based on PD Eastman's best-selling children's book, Go, Dog. Go! follows 6-year-old Tag Barker on her adventures in the city of Pawston, a fun-loving community of dogs on the go. Tag is a skilled mechanic and loves anything that goes. With her ingenuity and creativity, Tag can go as far as any plan will take her with her best friend Scooch Pooch by her side. Executive produced by Adam Peltzman (Odd Squad, Wallykazam!), Go, Dog. Go! zooms its way on to Netflix January 26.
What show are you looking forward to watching with your kids this month? I highly suggest you put everything down and go start Gabby's Dollhouse right now!
Pin This Image